Secretary's Message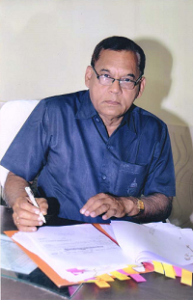 The international boundaries have shrunk today & an integrated global economy is fast emerging. The corporate sectors & business houses are facing challenge of international competition, which can only be taken care of through high quality management & leadership. The crisis of contemporary societies is the crisis of good leadership.
The motto of VSKD (PG) college Barla, Muzaffarnagar encompasses the provision of educational programs which are relevant to the needs of society, industry, profession & are appropriate for a major management & or other professional institutions.
Keeping in view these criteria, our vocational & professional programs are not only rigorous & intensive in nature but have an international perspective. They are designed to equip aspiring professionals with required management & other skills & to the present as well as those of future, with confidence.
The programmes offered by VSKD (PG) college Barla, Muzaffarnagar to aspiring professionals have all the ingredients that make a very significant contribution to their future career. The teaching methodology & industry interface has been designed in such a way that an overall personality development of students is achieved.